January 27 –



DEMOCRATS' HISTORY DEFICIENCY …
TAX FAX …
DO-GOODER DELUIONS



It would be interesting to ask a thousand or so Democrats, chosen at random, if they know the cause that launched our war for independence from Britain. I doubt that more than a handful would respond with the correct answer: taxes. I further suspect that the same Democrats who today applaud higher taxes (for somebody else, of course – like Warren Buffett, who argues for higher taxes on the rich while being one of the most adept tax-dodgers in the nation), forgetting that the very motivation for founding this nation was excessive taxation by the British.
Also worth noting, speaking of ol' Warren: While he advocates more of your money going to the government, he plans to leave most of his to a charity run by Bill Gates. Obviously, he trusts that charity to make better use of it than the thieves in Washington.
If our founders thought taxation without representation was bad, they ought to see it with representation.



- - - - -



Speaking of taxes …
Why wouldn't big-money golfer Phil Mickelson want to get out of California, with its insane taxes? There's a reason Tiger Woods and many other prominent pro athletes and big-money celebrities live in Florida: no state income tax! Yet the roads are good (as a former resident of both states, I assure you Florida's are a helluva lot better than California's) and all necessary government services work.
Just for fun, I used a cost-of-living and income calculator to do some comparisons. For the average middle-class family, comparing San Francisco to Miami, having lived in both cities. The earnings in Miami would be 18% less – but the cost-of-living would be 29% less.



- - - - -



Survey says (Rasmussen) … 45% of American adults favor replacing the income tax with a national sales tax, with 34% opposed.



- - - - -



Three months after Hurricane Sandy there are still hundreds of people in New York and New Jersey living without heat or electricity. Where is the barrage of media criticism about the government's response – or lack of it – that followed Katrina within 24 hours?
Ahhh … we know the answer, don't we?



- - - - -



Take note of two brief essays on misguided do-gooderism:
First, Thomas Sowell addresses the gap between liberal "compassion" and actual results ...
"There is no question that liberals do an impressive job of expressing concern for blacks. But do the intentions expressed in their words match the actual consequences of their deeds?
"San Francisco is a classic example of a city unexcelled in its liberalism. But the black population of San Francisco today is less than half of what it was back in 1970, even though the city's total population has grown. Severe restrictions on building housing in San Francisco have driven rents and home prices so high that blacks and other people with low or moderate incomes have been driven out of the city.
"Liberals try to show their concern for the poor by raising the level of minimum wage laws. Yet they show no interest in hard evidence that minimum wage laws create disastrous levels of unemployment among young blacks in this country, as such laws created high unemployment rates among young people in general in European countries.
"The black family survived centuries of slavery and generations of Jim Crow, but it has disintegrated in the wake of the liberals' expansion of the welfare state. Most black children grew up in homes with two parents during all that time but most grow up with only one parent today."



- - - - -



Burt Prelutsky offers a brief education on economics for our "leaders" ...
"The liberals in Washington are once again suggesting that the minimum wage be raised from $7.25 to $9.80. They do this periodically to show they have compassion, knowing that appearances are all that counts to their base. The fact that such raises inevitably lead to higher unemployment never registers. Because all these men and women with (D) after their names are convinced of their own compassion and because their supporters are all lunkheads, symbolism trumps reality.
"The fact that employers will often decide that it's not worth $400-a-week to have someone stock their shelves or sweep out the store never occurs to them. What's important is that they'll be able to sleep soundly and dream of sugar plum fairies re-electing them. They never bother facing the fact that high school kids and unskilled adults aren't worth $9.80-an-hour, an amount congressmen think others should be compelled to pay even though they themselves never would."



- - - - -



"People who are illiterate in the things that matter don't make wise and informed decisions." – Dan Sweeney



- - - - -

I have often written of the parallels between Argentina's history and current events in the U.S. This will illustrate the points I've attempted to make.

"Don't Cry for Me America (Argentina)"

Go to the website titled:

www.authorstream.com/Presentation/soundmanjay-34588

- - - - -


A life in radio...(cont)...


Since I have often mentioned my love of flying -- seaplanes, aerobatics; anything with wings -- reader Eileen asks me to recount an event I once mentioned briefly on the air.

As a young broadcaster, one radio/TV legend I much admired was Arthur Godfrey. He brought to the industry proof that an informal, humorous approach to advertising could be effective.
I had been flying only a couple of years when my longtime friend and instrument-flight instructor Verne Jobst, later Chief Pilot for United Airlines, invited me to attend a gathering of aviation folk in Chicago.
Among the attendees was Godfrey, a well-known flying enthusiast, and prominent attorney F. Lee Bailey, with whom Verne was acquainted.
Another attendee who was to be part of a panel discussion (his name escapes me) was delayed in Dayton, Ohio. Bailey suggested that Verne and Godfrey use his (Bailey's) new Lear Jet to fly down to pick up the delayed participant. Verne invited me along, we introduced ourselves to Godfrey, who handled the takeoff from (now defunct) Meigs Field on Chicago's lakefront.
Shortly after takeoff, Godfrey invited me to move up to the right (co-pilot's) seat, switched off the auto-pilot and said, "Take over."
I did. My first jet piloting experience. Exhilarating!
However, it was difficult to focus on flying the aircraft because for the entire round-trip Godfrey kept us in near-nonstop laughter. The man had an endless fund of jokes and stories, many of which he couldn't possibly have used on the air then -- or now.
He was also an excellent pilot, with many thousands of hours at the controls of his own plane(s).
I tallied many hours at the controls of many planes after my co-piloting flight with Arthur Godfrey, but never accompanied by so much laughter.



- - - - -



Argus Hamilton --
"President Obama issued two dozen executive orders to try to curb gun violence. It could affect the Super Bowl. The president banned the pistol offense, the shotgun formation, the bullet pass, the long bomb and any quarterback with a rifle arm."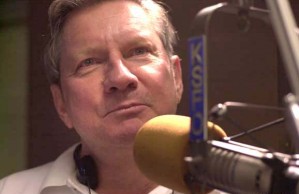 "...and now, if you'll excuse me..."
radiorodgers1@yahoo.com